About
I'm a Professor at Rutgers University, where I teach in the departments of History and Women's, Gender, and Sexuality Studies. My scholarship, artwork, and curatorial practice reflect my interests in LGBTQ history, science and medicine, religion, archival practice, utopian communities, and gender and the body. I'm the author of The Shape of Sex: Nonbinary Gender from Genesis to the Renaissance (Columbia University Press, 2021; Lambda Literary Award finalist and Honorable Mention for the John Boswell Book Prize); co-editor of "Trans*historicities" (with Zeb Tortorici), a special issue of the journal TSQ (Duke, 2018); and author of Prophecy, Alchemy, and the End of Time (Columbia, 2009), winner of the John Nicholas Brown Prize. My essays and reviews have appeared in Wired, Spot, Radical History Review, GLQ, WSQ (Women's Studies Quarterly), Osiris, ASAP/Journal, postmedieval, Journal of the History of Sexuality, and a number of books. I've lectured internationally and received grants and residential fellowships from the National Science Foundation, University of Wisconsin-Madison, UCLA, the Huntington Library, and the Stanford Humanities Center, among others.
In addition to my academic writings, I've been interviewed or had my work featured in The New York Times, Artforum, Huffington Post, People Magazine, Hyperallergic, LA Review of Books, Out, Art Papers, Feature Shoot, Redbook, Slate, JSTOR Daily, Capricious, LA Weekly, Gallerist, Buzzfeed, Forbes, Refinery29, and Modern Painters, and I've participated in exhibitions and programs at universities and arts venues that include Baxter Street Camera Club (NY, NY), Bemis Center for Contemporary Arts (Omaha, NE), Blanton Museum of Art (Austin, TX), the Brooklyn Museum (Brooklyn, NY), Houston Center for Photography (Houston, TX), The Front (New Orleans, LA), LatchKey Gallery (NY, NY), Leslie-Lohman Museum (NY, NY), MoMA PS1 Contemporary Arts Center (Queens, NY), NYU's Tracey-Barry Gallery (NY, NY), the ONE Archives Gallery and Museum at the University of Southern California (Los Angeles, CA), Paul Robeson Galleries (Newark, NJ), the Tang Teaching Museum and Art Gallery (Saratoga Springs, NY), and Yale University School of Art (New Haven, CT), among other sites. I have also participated in portfolio reviews and festivals such as the New York Times Portfolio Review, SPRING/BREAK (NY), and ImageNation (Milan).
Join us on Thursday, January 26, at 6 pm, for a conversation with Leah DeVun, Professor of History and Women's, Gender, and Sexuality Studies at Rutgers University, and Nancy Thebaut, Assistant Professor of Art History at Skidmore. They will talk about how we visualize queer, trans, and nonbinary communities in the past and present through art and scholarship, and how we might chart a path toward the future.
This event is co-sponsored by the Art History Department, Studio Art Department, History Department, and the Tang.
Watch a video of my recent panel discussion and Q&A with artists Elizabeth Insogna, Kar(s)en Heagle, and Kay Turner, and with scholar Amy Hale, as part of "Hekate's Grove" at Five Myles Gallery in Brooklyn (Oct. 22 - Nov. 20, 2022).
Upcoming Talks
Tang Museum 12/1
American Historical Assoc. 1/5
Stonewall Museum 3/3
Wesleyan 3/9
Bowdoin 5/4
Folger Institute 5/19
Tel Aviv Univ. 6/6
Columbia Univ. 10/13
Recent Past Talks
CUNY Grad Center 9/24
Columbia University 10/13
University of Rochester 10/20
Rhode Island School of Design 11/8
Brown University 11/10
University of Pennsylvania 11/15
Columbia University 11/18
Labyrinth Books, Princeton 12/2
International Center for Medieval Art 1/28
Bidar School, Tehran, 1/26
University of California, Santa Barbara 1/31
Oxford University 2/15
Cambridge University 2/18
University of Arkansas 2/28
CUNY John Jay College 3/24
University of Cincinnati 3/31
Stanford University 5/11
Princeton University 5/28
Humboldt-Universität, Berlin 6/7
Wexner Center/Ohio State University SU 9/15-6
Northwestern University 10/13
Five Myles Gallery 11/3
Eye Mama at RPS
One of my photos is included in the wonderful Eye Mama book project, edited by Kari Arieli, which shows life through the lens of mothers.
The book launch is accompanied by an exhibition at the Royal Photographic Society in Bristol, along with other events. You can purchase the book here.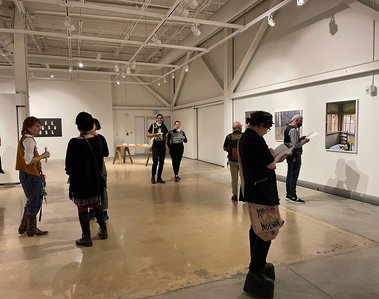 Drexel University Pearlstein Gallery
You can see work from my "Lesbian Land" photo series, as well as a few images from my new series on fatherhood, on view at the Leonard Pearlstein Gallery in Philadelphia until Dec. 10, 2022.
Tempus Fugit at LatchKey Gallery in New York City
Tempus Fugit represents a group of artists who have forced themselves to step back and observe society in a meaningful way, with their resulting artwork helping us to make sense of the chaos that surrounds us. Their thought-provoking creations address issues dominating today's headlines, such as systemic racism, women's rights, American democracy, voting rights, and the LGBTQ community's fight for equality. Participating artists include Chellis Baird, Kevin Claiborne, Lindsey Brittain Collins, Leah DeVun, Camille Hoffman, Keli Safia Maksud, Emmanuel Massillon, Lydia Nobles, Calli Roche, Telvin Wallace and Esteban Whiteside.